GoosCam Alternatives & Reviews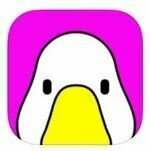 GoosCam
Description
GoosCam -- Live Clip Filmmaker with Sticker Effects is a cool app that helps its users incorporate some wonderful motion graphics to their photographs and videos in an easy to use and friendly manner. In only a single tap, you can easily add interactive stickers to any of your photographic stuff.... read more
Categories
LICENCE
Official Links
31 Best Apps Like GoosCam for Android
More About GoosCam
GoosCam — Live Clip Filmmaker with Sticker Effects is a cool app that helps its users incorporate some wonderful motion graphics to their photographs and videos in an easy to use and friendly manner. In only a single tap, you can easily add interactive stickers to any of your photographic stuff.
Some of its trendy and core attributes include the providence of Swipe Sideways for real-time and live lenses and filters, Vertical Swiping to change the color tone, Tap to create an interactive sticker, and new filters upgrades daily.
It has a very simple and easily-driven interface that makes it possible to do things easily and economically makes its users able to cast spells, throw eggs on people's face, launching fireworks, as well as fling poo. It's an interactive sticker effect, and it is simple to add them anytime. Using this app, you can picture effects, use FX and filters, and save your clips straightforwardly.