MSQRD Alternatives & Reviews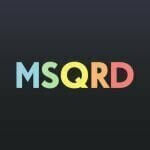 MSQRD
Description
MSQRD is a photography application that helps its Users make some amusing and stunning looking photographs and cartoons, change the appearance of these and send these photos to their friends for having fun.... read more
Categories
LICENCE
Official Links
51 Best Apps Like MSQRD and Silimar Apps
More About MSQRD
MSQRD is a photography application that helps its Users make some amusing and stunning looking photographs and cartoons, change the appearance of these and send these photos to their friends for having fun.
MSQRD offers an attractive integration with the front camera and lets you take selfies with a gigantic quantity of stunning outcomes. It provides a massive number of outfits that fit your face and lets you modify the appearance in a swipe.
It has several looks, including the animals face, beardy look, funny monkey, a guy with a mustache, dog face, lion, and various others. You may create your selfie with any of your favorite looks, and it is easy to change them with easy swipes. It supplies a list of characters and allows you to pick the one which suits you, and you can also share these pics with your friends and family persons.